Climb, meet new people, and have fun in our brand new league!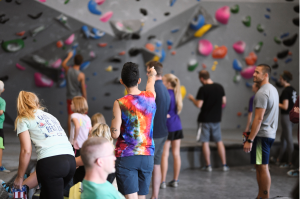 Score progress, not just experience. With handicaps built in, our leagues allow for brand new climbers to climb against the most experienced of climbers.
Looking to add something more to your typical week of climbing? Join the next upcoming league! Leagues are not only a great way to mix up your climbing, but they are also a great way to meet new people, bond with your friends, and interact more with your local climbing community!

---
How Do I Get Started?
Find your next upcoming League: Upcoming Leagues can be found below.
Find your partner: You can enter your partners name during your signup.

Don't have partner??  You don't need to sign up with one! Sign up as an individual and we'll find you a super cool climbing partner!

Choose your team name: All great teams have a name, so choose yours and enter it during sign up!
---
How It Works
7-Week League
Teams consist of two climbers
Each team will climb boulders each week, with each boulder grade being worth a certain amount of points. At the end of the 6th week, your total score from all 6 weeks will be added up.

Built into the scoring system is a handicap. This handicap allows for any climber to compete toe to toe with the best of climbers.

On the 7th week, winners will be announced during the final week's climbing party. Prizes will be awarded, and climbers will also get to try the brand new partner boulder set that week by our setting team.
No substitutions are allowed.
If you miss one league night, each climber is allowed one make up session per league.
---
League Schedule
Thursdays: 6PM-8PM
---
Pricing
Members: $40
Non-members: $120*
*Included for non-members:
7-week membership
Rental gear
20% off the purchase of your own climbing shoes, if bought within the duration of the league
---
Upcoming League:
---