---
The mission of the Climb Iowa Team is to connect children with an activity that provides health benefits, instills life skills, and builds community. Through climbing, we seek to develop the lifelong skills of discipline, problem solving, and teamwork in our athletes.
---
Climbing Teams
Approach Team:
Our Approach Team is designed for brand new climbers to be introduced to the fundamentals of climbing. It is a fun and exploratory environment with lots of direction and support. This is a weekly 1-hour practice that runs for a month.
—
Ages: 4-18 Prerequisites: No experience required
---
---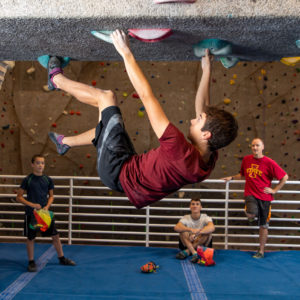 Summit Team:
Summit Team aims to facilitate an engaging and recreational environment for climbers to find community and learn. It is a supported space to grow at your own pace while building your foundation of climbing. Climbers can choose to practice once or twice a week.  Practices run from September – May
—
Ages: 5-18 Prerequisites: Approach Team OR Head Coach Approval
---
---
Apex Team:
Apex Team is designed to foster an environment to learn what climbing means to you. It is in a team-forward dynamic that prioritizes community, focus, and growth – both physically and mentally.
—
Ages: 5-18 Prerequisites: Summit Team & tryout required OR Head Coach Approval
---
---
Zenith Team is a space for driven athletes to receive training specific to their goals of competition climbing. The practice space is an environment for mature and focused athletes to work with their coaches and one another to continually develop as a competitive climber.
—
Ages: 5-18 Prerequisites: Apex Team & tryout required OR with Head Coach Approval
---
Parents
Find the season calendar, team resources, coach contact information, and more.
---
Pricing Options
Monthly (Team Dues Only)
This option must be combined with a prepaid or EFT membership. See membership options HERE. Team dues are based on the number of practices per week and the number of climbers per family.
| | | | |
| --- | --- | --- | --- |
| | Child 1 | Sibling 1 | Sibling 2 |
| One Day | $85 | $75 | $70 |
| Two Days | $140 | $125 | $115 |
| Three Days | $195 | $175 | $160 |
---
FAQ
How can my child join team?
Team is for youth climbers 5-18 who have an interest in pursing climbing socially, casually, or competitively. Take a look at our different team programs above to see which would be the best fit for your child.

Click into your desired team page above to see the process for signing up for that specific program.
When can I sign up my child for team?
Climbers may sign up at any point throughout the climbing season (September – May). Availability fluctuates throughout the year and some sessions will become full.
Must sign-up one week prior to the desired start date
How often does a team practice?
The Approach Team is a one day per week program Summit Team climbers can choose between one, two, or three nights of practice per week. Apex Team climbers must practice 2 practices per week, with a optional third practice. Zenith Team members are required to practice three days per week.
My child is on team, do they need to compete?
There are plenty of opportunities for youth athletes to focus on learning new skills and being a part of a fun and encouraging environment without the pressures of competing. The only team with any competition expectations is our Zenith Team.

While not all athletes are required to compete, any climber that is interested and would like to learn more should reach out to their coach to discuss their options!